Christmas Trees in the Media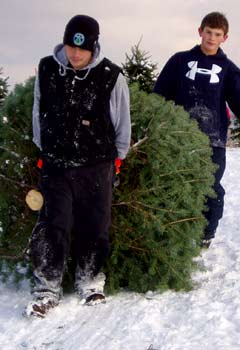 For reporters and other members of the media considering an article related to real Christmas trees, the New Hampshire-Vermont Christmas Tree Association has expert members who can provide background information, quotes and story ideas on topics including:
Christmas tree farming (including various species, the growing process, shearing and harvesting)
Marketing (our members sell wholesale to groups like Lions Clubs and the Boy Scouts; retail via onsite and offsite lots; choose-and-cut with attractions like sleigh rides and appearances by Santa; and mail-order to locations around the world)
Advice on caring for real Christmas trees once in the home
If you've got a story idea in mind, or need a quick bit of information and a quote, please contact us and we'll put you in touch with a member who can answer your questions.
The NHVTCTA also has a limited amount of photography available to help illustrate stories. Please contact us and we'll do our best to supply high-resolution photography that meets your needs.
For local stories or more information about the Association, Please contact Executive Director, James Horst at: info@nh-vtchristmastree.org
For national story ideas, statistics and data, as well as graphics related to real Christmas trees, please visit the National Christmas Tree Association's media Web site www.christmastree.org/media.cfm.